If you love paper crafts and you enjoy everything rustic, there's nothing more fun than making beautiful crafts out of old book pages. In today's video tutorial, you will learn how you can make hanging rustic butterfly décor from an old book and some keys.
How to Make Butterflies from an Old Book
This is a fast and easy old book craft. You only need a few pages to make a number of butterflies. How many you make is up to you. You can make them all the same size, as I did, or you can make them in a variety of sizes.
What You Need for this Old Book Paper Craft
To make this rustic paper craft, you just need a few basic supplies. You'll need a pair of scissors, some hot glue and a glue gun. You'll require some twine and an old book that you are willing to cut up.
You will need a couple of other things as well. In order to create the shapes of butterflies on the pages to cut out, you will need butterfly stencils of some variety. If you want to reproduce the results of this craft closely, you will need the same shape of stencil in two different sizes, one slightly smaller than the other.
Download our butterfly templates here: butterfly_template.jpeg (Can be printed black and white)
You will also need keys, which will serve as the bodies of your butterflies. You can use any types of keys that you want, but you will achieve the best rustic effect if you go with vintage skeleton keys. If you do not have any of these, you can purchase them by the lot online.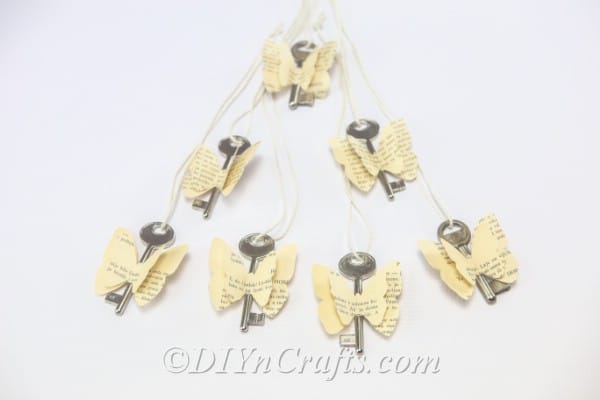 What to Do With Butterflies from an Old Book
After you complete this craft, you can hang up your butterflies anywhere you please. You can put them against a wall or simply hang them from the ceiling anywhere in a room.
How to Make This Rustic Butterfly Décor Step-by-Step Video Tutorial
Ready to get started making butterflies from an old book and keys? Find the quick list of materials and tools required below along with written instructions to accompany the video tutorial.
 

Yield: 5
Love rustic crafts using the pages of old books? You'll have fun making these butterflies from an old book with our easy video tutorial.

Prep Time 5 minutes

Active Time 15 minutes

Total Time 20 minutes

Difficulty Easy

Estimated Cost $3
Tools
Hot glue and glue gun
Scissors
Recommended Products
My favorite Etsy butterflies. (Affiliate links)
What to Make Next If You Enjoyed This Old Book Craft

If you had a good time making hanging butterfly decorations out of an old book, you should enjoy making some other rustic old book crafts. And you're in luck because we have a number of tutorials for other old book projects here on our site.
You can get started by making DIY rustic vintage flower decor from an old book. Next, you can learn how to make a romantic bouquet from old book pages.
In fact, if you have fun with that craft project, you can learn 10 other easy ways to make DIY book page roses. We also have a number of Christmas crafts you can make out of old book pages, such as this tutorial to create a beautiful snowflake.
Have fun, and explore our archives for many more rustic craft project tutorials!
Pin this project:
Related Content