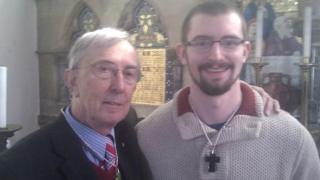 A churchwarden who conned an author into including him in his will has been found guilty of murder.
Benjamin Field, 28, manipulated 69-year-old Peter Farquhar for financial gain and killed him by making his death look like an accident or suicide.
At Oxford Crown Court, Field was found not guilty of the attempted murder of retired headmistress Ann Moore-Martin, 83, in the village of Maids Moreton.
Co-accused Martyn Smith, 32, was cleared of murdering Mr Farquhar.
Both men were found not guilty of plotting to kill Miss Moore-Martin.
Field, a Baptist minister's son, admitted tricking both Mr Farquhar and Miss Moore-Martin into believing they were in relationships with him as part of a plot to get them to change their wills, but denied any involvement in their deaths.
'Calculating and ruthless'
Senior investigating officer Mark Glover described Field as "cruel, calculating, manipulative, deceitful", adding: "I don't think evil is too strong a word for him."
Chris Derrick, from the Crown Prosecution Service, said: "He is clearly a very calculating and ruthless man who spent a great deal of time planning what he was going to do."