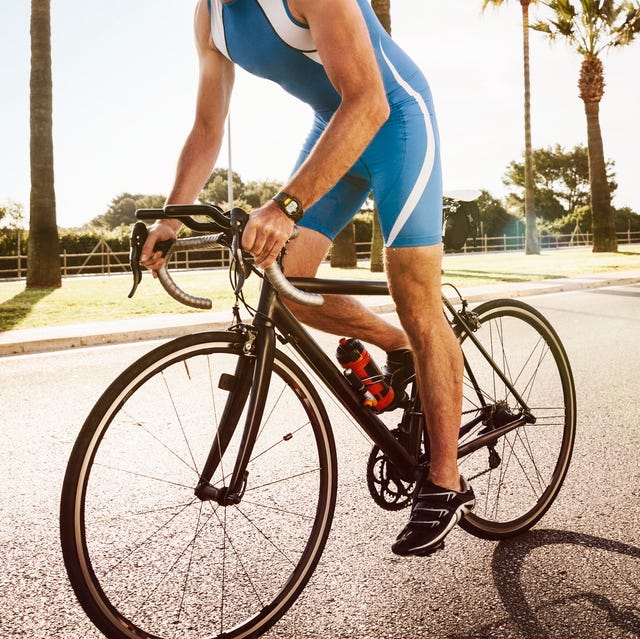 Westend61Getty Images
Once upon a time, the road bike was specifically for the paved road, constructed for speed, not great on uneven terrain. That was then, though, and this is 2019. And this summer's road bikes are driven more by technology than ever before, built to dominate paved roads but also hit gravel too, with just a change of the tires. There's never been a better time to fall in love with a road bike. The best road bikes out there are fast, light, and durable, a magical combination that'll have you riding comfortably all summer, soaking up the sun and the wind in your face. You'll get a solid leg workout, too, push your heart rate up higher than you may think, and break a good sweat as well. It's time to let the summer of the road bike begin.
Advertisement – Continue Reading Below
1
ARD 1.4 Bike
Co-op Cycles
rei.com
$2,039.09
Yes, REI makes its own bikes. And they don't come any better than this ARD 1.4 from the revamped Coop Cycles line. Don't overlook the versatility and value of this bike, which has a carbon frame and fork, a potent Shimano 105 drivetrain, and hydraulic disc brakes. Yet somehow, it weighs in at just under 20 pounds! You'll get 22 gears for climbing, commuting, competing, and trying to keep up with your kids on the open road, all in one taut package.
2
Road Soda
REEB bikes are hand-built in a 100-year-old barn in Lyons, Colorado, so even for a middle-of-the-road price, you're getting a bespoke, U.S.-made bicycle. The steel Road Soda (also available in Titanium for an upcharge) is supple and sturdy to handle the backyard Rocky Mountain climbs and variable surfaces it is proven on. Rounded out with Shimano 105 componentry, disc brakes and dynamic 135/142mm spacing, you'll be turning heads as you're turning corners.
3
Road Bike Triban Disc 105 RC 520
Just getting into biking? Then look closely at this budget-friendly, entry-level road bike that will have you rolling in style, with plenty of dough left over for accessories. Despite the price, the Btwin is still filled with proven parts and fine-tuned German engineering. The race-ready, gravel-compatible aluminum Triban features a stiff carbon fork, Shimano 105 componentry, mechanical disc brakes and a high-end look and feel, all for under $1000. Consider it an instant upgrade at a stunningly bargain price. 
4
4130 Road Americana (8-Speed)
The 4130 Road model from State Bicycle Co. is perfect for the casual rider, and it comes at a magical price that almost anyone can afford. Still, you're getting a bike that's more efficient, stylish, and sleek than a hybrid, and you'll be road-ready with a simple 8-speed drivetrain and tire clearance up to 32 mm. The unique colorways and double-butted 4130 Chromoly steel frames make this an everyman's classic.
5
Haanjo 7C Carbon
diamondback
diamondback.com
$2,699.99
Diamondback's Haanjo is still in that somewhat "affordable" price range, and it's well worth it. The company has a history of delivering rugged off-road bikes, and it transfers that brilliance to this road-worth option, which has seen many iterations over the years. The result is a do-it-all gravel-crushing long-distance bike that's made of carbon fiber. You get to seemlessly transition from gravel to pavement with old-guy-friendly geometry and highly efficient Shimano Ultegra components, and you can take tires up to 37 cm. Add in flat mount hydraulic disc brakes and HED carbon wheels, and this one's a dream.
6
Aeroad CF SL 7.0
canyon
canyon.com
$2,999.00
This is one of the nicest road bikes you'll find for under $3,000. Canyon's Aeroad series will run you $8,500 in its highest configuration, but this 7.0 version still includes race-worthy Shimano 105 drivetrain components and deep section carbon wheels. Canyon's German engineering is all over the pro-tour stage, but somehow, it's available direct to United States consumers, meaning costs stay down but road warriors get high-level performance.  
7
R.1 Ultegra
Viathon Bicycles
viathonbicycles.com
$3,575.00
If you haven't heard of Viathlon, you're not alone, as the brand just launched at Sea Otter in May. Its R.1 road model with Shimano Ultegra component groupo (including hydraulic disc brakes) is one of those sweet-spot road bikes that delivers sick performance at a decent price. You'll also get precise handling and pedaling efficiency, thanks to the oversized tapered head tube and the bottom bracket. This is perfect for competitive group rides, and it's a sleek-looking bike to boot.  
8
Wilier Zero.7 Z15
Wilier Triestina
amazon.com
$4,499.00
The name trips up even the most ardent bike geeks, but here's all you need to know: the Zero.7 is the lightest Wilier Triestina bike in the brand's lineup, due to the lower volume carbon frame, replete with Shimano Dura-Ace 9100 component groupo. It features reinforced stiffness in all the right spots without adding weight. Translation: It rides like a dream. 
9
Kestrel Legend SL SRAM ETAP 51 Carbon
Kestrel
amazon.com
$8,106.32
Kestrel may not be a household name, but it should be since it was innovating with carbon fiber before most bike brands. The Legend SL model can be described with two words: Smooth ride. This bike reduces vibrations thanks to a tapered full carbon fork for added stiffness, and a tapered head tube that'll make your steering more precise. It also comes with the super high-end  SRAM RED eTap 11-speed wireless electronic groupo, which if you haven't tried it, will be hard to go back to manual shifting afterwards. Make the investment. You won't regret it. 
10
Ridley Fenix SLX Disc Ultegra Di2
Ridley
amazon.com
$6,499.00
Like others in its class, the Ridley Fenix is light and stiff for racing, yet is also ideal for group rides and multi-day endurance riding. Ridley blends layers of different types of carbon in a unique diamond-shaped tube configuration. It features flat mount disc brakes, and comes standard with Ultegra Di2 electronic shifting, and forks can accommodate tires up to 30mm wide, and you'll love its versatility on varied terrain. 
Advertisement – Continue Reading Below